Big things happening at BigSpeak!
It's been a busy but exciting month around here. From California to Texas, to Florida, and Ontario, Canada, agents represented BigSpeak from coast to coast
Here's a glimpse into what we've been up to.
Most O.G. Booking
Rapper, actor, and entrepreneurial extraordinaire Ice-T. Craig Sherman booked Ice for a September event in Canada.
Speaking of Canada…
Kyle Munger and Steve Wozniak paid a visit to our friendly neighbors to the north where the Apple co-founder spoke at an event for Audi.
When in Canada…visit Kevin O'Leary HQ. Kyle also stopped by to see BigSpeak friends Nancy Cheun, Director of Public Relations of O'Leary Financial Group, and Alex Kenjeev, President of O'Leary Ventures ( Kevin O'Leary stand-in and body double was there too!).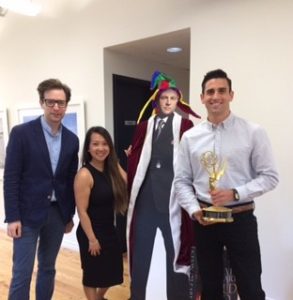 Dirtiest Booking
Mike Rowe. The "Dirty Jobs" host was booked by BigSpeak President Barrett Cordero for an event in Florida where he talked about "Happy, Dirty People"
Gold Medal Touchdown Events
Amy Dernus booked former NFL star Kurt Warner for an event in sunny Palm Springs, CA.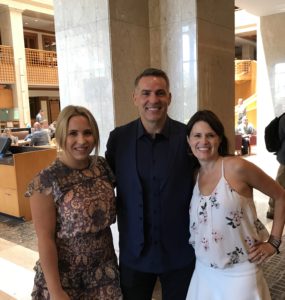 Kurt played offense for the St. Louis Rams. His rise to success is one of the sports most more fascinating stories. Bypassed by the big Division I colleges, and at one point working the graveyard shift stocking shelves at a supermarket so he could stay in football shape during the day, Warner, a 28-year-old no-name back-up, catapulted to stardom in 1999, driving the Rams to Super Bowl Victory and winning MVP along the way.
Sondra Ulin brought Olympic gold medal swimmer Amy Van Dyken to Texas to talk thinking like a champion (and the Cowboys).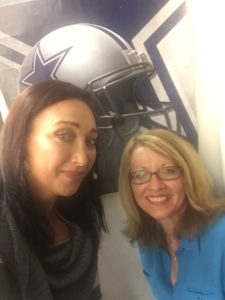 Van Dyken has made a career out of beating the odds, both in and out of the pool.The record-breaking swimmer fought back from a shoulder injury to win two gold medals in 2000 in Sydney— adding to the four she had already won in Atlanta in 1996 and making her one of the few Olympians to win all gold medals. In June of 2014, Amy suffered an ATV accident that severed her spinal cord leaving her paralyzed from the waist down. Despite doctors giving her only a 20 percent chance of surviving the surgery, Amy beat the odds once again and continues to inspire with her message.
Most FUBUlous Booking
Daymond John. The FUBU clothing founder and Shark Tank shark was booked by Lisa Gerlach for another event in…can you guess?… the Lone Star State.
Now Representing
Eric O'Neill, former FBI agent and cyber security expert
David Ferrucci, artificial intelligence researcher who led the IBM Watson team.